GERMAN WINES
Germany's vineyards are unique because grapes do not normally grow in such northern latitudes. The Rhine River and its tributaries flow through such deep-cut valleys that the fruit is protected from harsh northern winds.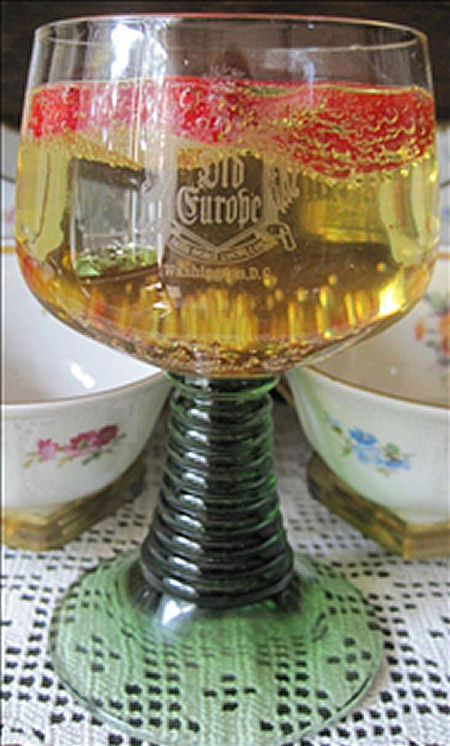 ... "in vino veritas" - "in wine there is truth" - is the legacy that the old Romans left after they first colonized the Rhine and brought with them their expertise in wine making. Throughout the centuries, German wine growers improved upon the quality of their product and succeeded in creating wines that rival anything grown in the warm, benign climates of the Mediterranean.

Although one might expect otherwise, German wines are graded according to their degree of ripeness and when harvested.

'Spätlese' is late harvest. 'Beerenauslese' is a grape harvested after the first frost, and 'Trockenbeerenauslese' is harvested by hand after the grapes have practically become raisins on the vine.

Like everything else, all this handpicking has its price. Customs and tastes do change. Today the wine regions of "Baden" and "Württemberg" excel in the production of dry white wines, the perfect companions to today's lighter meals.

OLD EUROPE is proud to offer you one of the largest selections of German wines this side of the Atlantic. Fruity Mosels, acidy Ruwers, full-bodied Hessians and light Palatinates await your critique.

Enjoy a good meal and toast with a bottle of fine wine.



"Wer nicht liebt Wein, Weib und Gesang,
der bleibt ein Narr sein Leben lang."

"He who loves not wine, women and song
remains a fool his whole life long."





Ripeness- a sign of quality


German wines are classified on the basis of ripeness of the grapes at the time of harvest. More than 90% of German Riesling wines are sold as Qualitätswein, with the assurance that each has passed analytical and tasting tests carried out by panels of government experts.
There are two divisions of the Qualitätswein category.
Qualitätswein bestimmter Anbaugebiete (QbA) - wines from one of thirteen specified German wine– growing regions that ripened sufficiently to assure that the wine will have taste and style of region.
Qualitätswein mit Prädikat (QmP) - meeting all the requirements for QbA wines as to origin and legal approvals, these are the highest quality wines with "special attributes" (Prädikat).
There are six levels of Prädikat, each denoting a higher degree of ripeness:
KABINETT - the world's naturally lightest wines made from fully ripened grapes, sleek and generally low in alcohol...elegant wines.
SPÄTLESE - literally late harvest wines, balanced, well-rounded, with the intensity of very ripe grapes, producing a riper more intense wine.
May be produced in: "trocken" dry, "halbtrocken" medium dry, or "mild" sweet styles
AUSLESE - noble wines, intense in bouquet, aroma and taste, made from overripe grapes, selected in bunches. Usually on the sweeter side and often considered appropriate as dessert wines.
BEERENAUSLESE (BA) - rare and luscious, sweet dessert wine, with the unmistakable honey–like aroma of Botrytis ("Edelfäule" / "noble rot"), made from overripe berries, individually selected by hand. BA's are rare, occurring only two to three times in a decade.
EISWEIN - a rich, concentrated wine made from BA quality grapes, that were left on the vines long past the main harvest to be picked and pressed while frozen at –8°C or lower. Truly unique wines with a remarkable concentration of fruity acidity and sweetness.
TROCKENBEERENAUSLESE - the crowning achievement of German viticulture, the rarest of German wines, made from individual berries.

German White Wines

Rheinhessen
1000 hills within a river's bend!
Wine delicately fragrant, mild, soft, medium-bodied

 
001
Huxelrebe Beerenauslese 2002 - Weinkut Köster-Wolf (half bottle)
$40.00
004
Liebfraumilch, 2014 * - Piesport, Römerhof Weinkellerei
$30.00
005
Ortega Trockenbeeren Auslese, 2003 - Weingut Ernst Bretz (half bottle)
$45.00
007
Rieslaner Beerenauslese, 2006 - Bechtheimer Geyersberg, Johann Geil
$63.00
010
Riesling Kabinett halbtrocken, 2008 - Prädikatswein, BW
$30.00
* available by the glass
 

Pfalz
Voluptouous pleasures!
Wine: aromatic, mild, round and full-bodied, expressive

 
016
Rieslaner Spätlese, 2006 - Dürkheimer Nonnengarten, Weingut Darting
$55.00
018
Riesling Spätlese, 2004 - Königsbacher Ölberg, Peter Stolleis
$45.00
019
Blue Fish Riesling, smooth and dry, 2013 - Die Weinmacher GmbH
$30.00
020
Riesling Spätlese trocken, 2002 - Gimmeldinger Mandelgarten, Peter Stolleis
$45.00
 

Rheingau
A tradition of quality!
Wine richly fragrant, racy, piquant, elegantly fruity and delicate

 
021
Riesling, 2013 - Weinhaus Ress, Eltville
$30.00
023
Riesling Kabinett, 2007 - Baron Knyphausen, Eltville
$45.00
025
Riesling Kabinett, 2007 - Wickerer Mönchsgewann, Flick
$50.00
028
Riesling, 2012 - Schloss Reinhartshausen, Eltville - Erbach
$35.00
029
Riesling Kabinett, 2001 - Steinberger, Kloster Eberbach
$40.00
 

Mosel-Saar-Ruwer
Legacy of the Romans!
Wine: richly fragrant, racy, piquant, elegantly fruity and delicate

 
033
Haus am Markt Riesling, 2013 - Piesporter Michelsberg, Römerhof Weinkellerei
$30.00
035
Zeller Schwarze Katz, Riesling, 2014 - Qualitätswein, Leonard Kreusch
$25.00
038
Riesling Auslese, 2003 - Trittenheimer Apotheke,
Clüsserath Weiler (half bottle)
$72.00
042
Riesling Spätlese, 2006 - Weingut Selbach Oster,
Selbach Oster (half bottle)
$38.00
043
Riesling Spätlese, 2006 - Wehlener Sonnenuhr, Weingut Kerpen
$76.00
045
Riesling Kabinett, 2006 - Weingut Selbach, Selbach Oster (half bottle)
$33.00
049
Spätlese, 2008 - Piesporter Goldtröpfchen, Reinhold Haart
$80.00
 

Baden
Kissed by the sun!
Wine: fresh, fragrant, spicy, aromatic, full-bodied

 
057
Black Forest Girl - cuvée, dry, 2014 * - Qualitätswein
Badischer Winzerkeller
$30.00
058
Affentaler Spätlese, 2014 * - Qualitätswein,
in the famous "Monkey Bottle"
$30.00
059
Affentaler Riesling, 2005 - in the famous "Monkey Bottle"
$30.00
* available by the glass
 

Nahe
Jewel of the Southwest!
Wine: strikingly fruity, hearty, powerful, distinctive earthy finish

 
060
Spätlese, 2008 - Prädikatswein, Bauer Haus
$35.00
063
Riesling Kabinett halbtrocken, 2006 - Münsterer Dautenpflänzer,
Weingut Kruger-Rumpf
$55.00
064
Scheurebe Spätlese, 2006 - Weingut Kruger-Rumpf
$61.00
 

Mittelrhein
The romantic Rhine!
Wine: fresh, fragrant, pithy, marked fruity acidity (sometimes austere)

 
065
Grauer Burgunder trocken, 2006 - Bopparder Hamm Feuerlay,
Weingart
$55.00
066
Riesling Kabinett, 2006 - Bacharacher Hahn, Weingut Toni Jost
$59.00
 

Franken
Home of the famous "Bocksbeutel" !
Wine: vigorous, earthy, robust, dry, often full-bodied

 
071
Silvaner trocken, 2014 - Staatlicher Hofkeller, Würzburg
$38.00

Deutsche Rotweine - German Red Wines

German red wines are refreshing, often light,
and show more of a fruity than tannic acidity.
They are a specialty, usually consumed where they are grown and little is exported. Very pleasant, easy going wines.

051
Dornfelder, sweet, 2014 * - OH BE JOYFUL, Rheinhessen
$30.00
052
Affentaler Spätburgunder, 2013 Winzergenossenschaft Brühl, Baden
$30.00
055
Black Forest Girl, Pinot Noir, dry, 2014 * - Badischer Winzerkeller, Baden
$30.00
056
Trollinger - QBA, Würtembergische Weingärtner
$35.00
157
Blauer Spätburgunder, dry, 2012 - Knipser, Pfalz
$50.00
158
Gaudenz, cuvée-trocken, 2012 - Knipser, Pfalz
$45.00
* available by the glass

German Rosé Wines

In Germany, several regions are noted for their distinct style of rosé
(German Rosewein or Roseewein). Several terms are used to denote
these different styles depending on how the wine was made,
from what grapes and in what region.

050
Rosé de Pinot Noir, 2007 - Villa Wolf, Qualitätswein, Pfalz
$35.00
054
Affenthaler Spätburgunder Rosé, 2013 *
in the famous "Monkey Bottle", Baden
$30.00
* available by the glass

Austrian White Wines

099
Münzenrieder Chardonnay Reserve, dry, 2013 - Burgenland
$40.00
100
Weissburgunder - Pinot Blanc, 2010
Burgenland, Klosterkellerei Siegendorf
$35.00
101
Eiswein, 2004 - Premium Grüner Veltliner
Nittnaus, Burgenland (half bottle)
$65.00
102
Grüner Veltliner, 2010 - Weingut Türk, Kremser Weinberge
$30.00

Austrian Red Wines

103
Muenzenrieder - cuvée Seewinkel, 2009 - Zweigelt, Blaufränkisch
$30.00
105
Muenzenrieder - Pinot Noir, 2008 - Burgenland
$35.00
106
Muenzenrieder - Zweigelt Classic, 2012 * - Burgenland
$30.00
107
IBY Hochäcker, 2004 * - Blaufränkisch, Burgenland
$30.00
108
Siegendorf - cuvée, dry, 2009 * - Cabernet and Merlot
Klosterkeller Siegendorf, Burgenland
$30.00
* available by the glass
 

Old Europe's Private Reserve Wines

 
089
Guntersblumer Autental 1971 - Christian Schmidt Erben,
Silvaner Auslese
$300.00
090
Guntersblumer Eiserne Hand 1981 - Schlossgut Schmidt, Auslese
$145.00
091
Bernkasteler Doktor 1997 - Geheimrat Wegeler, Riesling Auslese
$225.00
092
Serriger Würtzberg 1989 - Weingut Herrenberg - Bert Simon,
Riesling Auslese
$125.00
 

"Sekt" is Germany's sparkling wine

It derives from the Spanisch vino seco, meaning dry wine,
and entered the German language as seck via England
(where it was called "sack") during the 17th century.
Purely by chance did it come to mean sparkling wine.

 
094
Weissburgunder trocken, 2005 - Weingut Biffar,
traditional bottle fermentation, Pfalz
$84.00
095
Riesling Sekt trocken - Ulrich Langguth, Mosel
$70.00
096
Henkell trocken - from Wiesbaden in the Rheingau region
$35.00
097
Fürst von Metternich, 1999 - Johannisberg, Rheingau
$30.00
Drink wine, and you will sleep well.
Sleep, and you will not sin.
Avoid sin, and you will be saved.
Ergo, drink wine and be saved.
Medieval German saying